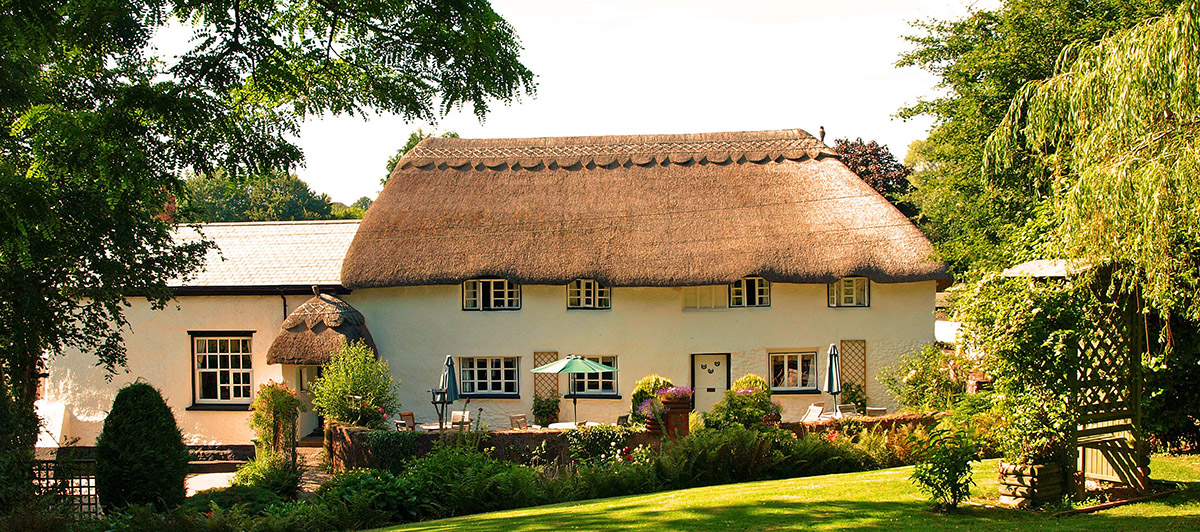 Welcome to The Barn and Pinn Cottage Bed and Breakfast in Sidmouth' Devon.
Come and enjoy the tranquility of this beautiful 15th Century thatched cottage nestling within two acres of award winning gardens with private parking and sun patio's Situated only 5 minutes drive from Sidmouth. 
I know Boris is relaxing everything so that we now get to 'live with Covid'
As Hospitality we have been asked to remove our 'we're good to go' logo
But we would appreciate if, for the moment, guests could still wear their masks,
just in our short hallways, to and from breakfast, their rooms and the guest lounge and also on check in.     
We want everyone to stay well. We need to stay well to stay open for you.
Covid has not yet gone and we want to keep everyone safe while with us.
Sidmouth Bed and Breakfast.
Finding the right Bed and Breakfast can be difficult' especially in Devon.
The Barn and Pinn Cottage aims to make that decision easier for you.
Please take a look around our website at what our guest house has to offer.
Please see below for our latest award
You're in the top 10% of hotels worldwide.
Congratulations on being a Travelers' Choice Winner.
Each year, we comb through reviews, ratings, and saves from travelers everywhere, and use that info to award the very best. You're part of an exclusive group, and we want to help you celebrate (and promote) this major accomplishment.
As always we go through re-decorating so that the cottage is lovely & fresh for the season
For all bookings please either ring or e-mail and we can check availability for you.
We won the Certificate of Excellence again last year. 12 Years Running now
Thank you for all your lovely reviews.
The Barn and Pinn Cottage is conveniently situated just 5 minutes drive from Sidmouth.
We are very central for exploring the area
We are with Booking.com for our online booking, but it cannot process all our rooms as we can. You are welcome to check the availability on their site but all our prices are discounted by booking direct with us. Plus extra discounts on weekly stays or any other offers we may be running also if you require dog friendly, children/family rooms you will need to book direct with us. 
For our less mobile guests we have 6 downstairs rooms. Room 6 is our accessible room with a walk in wet room. If required it also has a chair for the shower and frame for the toilet on request.  
If you can contact us directly for any bookings we can help you select the best room for your perfect stay.  
Please see contact and either ring or e-mail us. We are happy to help.
We won the Trip Advisor Certificate of Excellence again!
That's now 10 years running ! Thanks to you for your lovely reviews
Dog Friendly B&B Accommodation Sidmouth.
The Barn and Pinn Cottage is proud to be able to welcome guests with well-behaved dogs to our Guesthouse. We have three bedrooms suitable for use by guests with dogs. These are Rooms 6, 7 & 8.
Please contact us for more information and to check availability of our dog friendly rooms. We are unable to take these bookings via Booking.com please contact us directly
Room 6 (twin) Room 7 (holiday let, B&B or Self Catering) Room 8 (Double)
We offer bed and breakfast accommodation at very competitive prices. For all offers and discounts you need to ring us direct 
The guest house is set in glorious surroundings and provides a unique experience that will ensure you return for repeat stays.
Find out more about the cottage and view images of the interior and gardens.
Bed and Breakfast Sidmouth Bookings.
To check the availability of rooms and dates please call us on 01395 513613 (up until 10pm) or email barnpinncottage@btinternet.com at any time We are more than happy to answer any questions you may have. Or to take your booking. We have now joined Booking.com but for all offers and discounts you need to contact us directly, we also like to find out from you what you need so I know which of our rooms will be perfect for you so that you have a truly wonderful stay. For all enquiries after 10pm please e-mail
We look forward to welcoming you to stay at The Barn and Pinn Cottage Bed and Breakfast.
For Detailed Room Descriptions, our Policies including our Cancellation, Dog and Wedding Policies and Booking Details. Please look in 'Access' at top of page
Want to save a massive amount on your parking costs at Exeter airport?
It's easy just compare and pre-book with UKACP. You'll save up to 60% every time on Exeter airport parking.